This horse is a bit of a mystery to me. I've never seen another like it, and it doesn't quite match the rest of the Lefton Tobin Fraley series. The base of this horse is the same as the other medium Fraley-Lefton pieces, however the coin is different - it still says "The Great American Carousel Collection - Tobin Fraley" and otherwise looks the same as the others, but it does not have a run number on the coin (difference is shown below). It also does not appear on the box that shows the three medium-size pieces that do have run numbers. I'm sure it's authentic Lefton and authentic Tobin Fraley also - just that it wasn't part of the same run as the other medium-sized pieces. I'm also not sure what carver's work it is supposed to represent.
The piece is medium-sized, about 8" to the top of the pole. The coin inset into the base shows no run number. The music-box base plays "The Carousel Waltz".

The average price of this piece when new was probably $55-$70.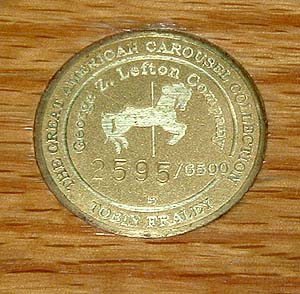 Coin with run number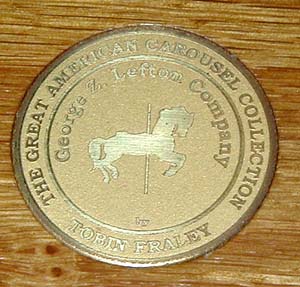 Coin without run number